I added four 10mm standoffs to the PCB for mounting the LCD onto a plexiglass stand
I soldered K1, the 20 pin male connector directly to the back of the LCD PCB (pin 1 to 20)
The edge array backlight consists of six parallel wired white LEDs and is specified for 120mA @ Uf=3.5V shining through a diffusor plate behind the LCD itself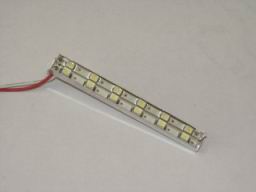 The backlight LEDs
To connect the LCD to the parallel port I wanted something clean, as well as for the contrast and luminosity settings. Not to forget a reset switch and the +5V connection. So I developped a little PCB:
Rear views of the mounted PCB:
From left to right: Reset switch, contrast, luminosity, +5V-connection. Actually power supply is done via an external ZIP100 PSU (exactly +5V), but afterwards I want to connect it to the Enermax +5V rail in my PC-70. Therefore I decided to include a 0.5AT fuse & fuseholder onto the PCB.
For the LPT1 connection I used a 36-pole female Centronics connector, so I was able to use a standard printer cable. The whole thing is mounted on an alu profile of 20x30x2 mm that will be fixed on a plexi standard. For the cable to the LCD I used a "cannibalized" 40-pin IDE cable. The LCD has 20 pins, so I used only the lower row of the 40-pin connector (1 wire on 2).
As principal software to drive the LCD I use Mr. ChronoM's PowerLCD 2.02 (also a guy from Belgium!) available online for 19.99 Euro (about 22US$-35AUD$). This package is specifically developped for use with graphical LCD's with a T6963c or SED1330 controller.
Some pics in action (PowerLCD runs here on my laptop):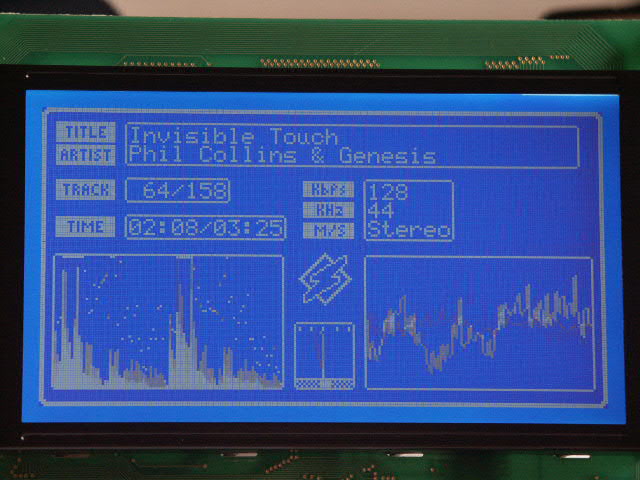 This is the LiquidMP3 0.9.3 beta plugin for Winamp, with spectrumanalyzer, VU-meter and oscilloscope:
After picking up the plexiglass stand at the store, cut to dimension and folded at an angle of 70°: I just have to drill the neeeded holes...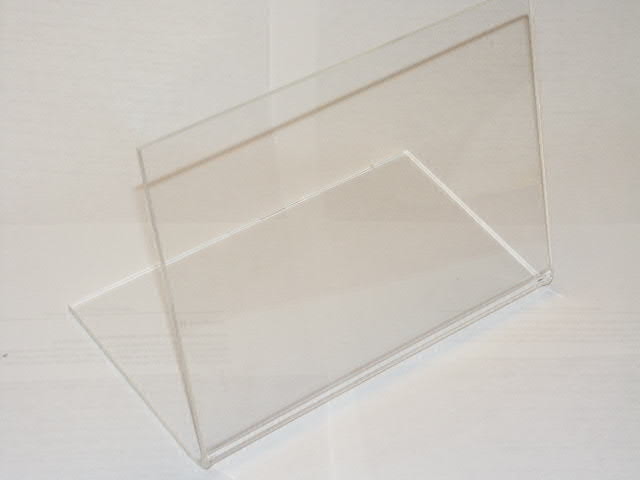 LCD is now completely mounted and functional. Actually the wiring and the LCD PCB are still visible. As soon as I have cut the window in my PC-70 I will recuperate some 1mm thick brushed alu, and with that I will make a framework around the LCD with an opening for the viewable area:
On the base all screws are sunk. Four adhesive rubber feet keep the whole thing stable onto my desk:
Printer cable and power supply connected: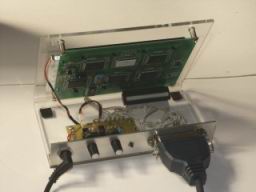 The following Picture is taken at a resolution of 2560x1920 pixels, standard compression (file size is about 350Kb)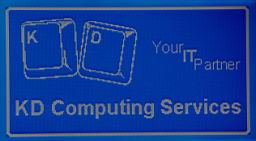 My company's logo
OK, finally cut my Lian PC-70 window, used the resting alu to cut the frame for my LCD: :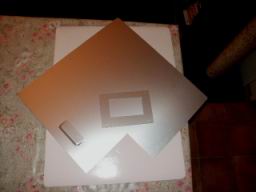 After the finishing touch (filing, sanding) here's the result: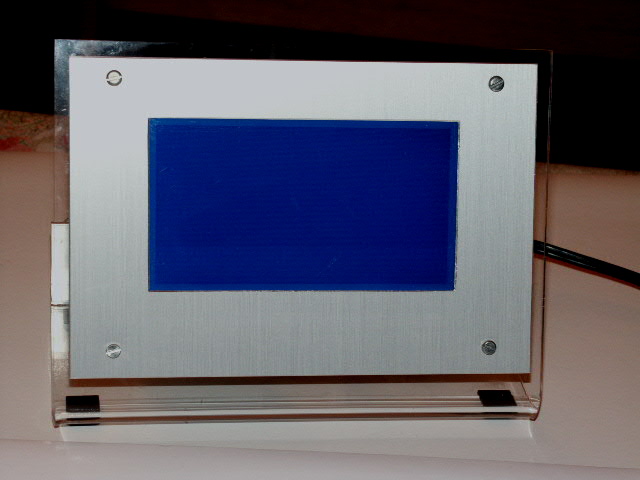 Again, some pics with the frame mounted: (In the meanwhile I made some skins for PowerLCD)
Just preordered a white on blue LED backlighted 320x240 pixel LCD with a SED1335 controller from ModwareHouse. Can't wait to start it all over again...