My watercooled Lian Li PC-70 project
Page 1
Based on this beautifull Lian Li PC-70 USB aluminium case...
Note: the picture is the PC-70 without frontal USB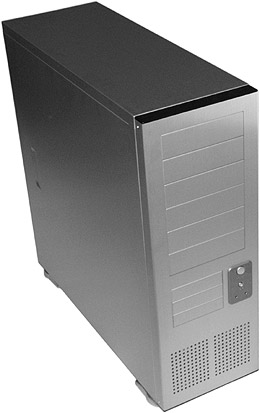 I don't have pictures of the beginning of this project because I didn't own a digicam at that time...
Except for this case I bought also following parts:
Enermax EG-651P 550W ATX Power Supply
BeCooling Aquacoil II radiator with 1/2" connections
Swiftech MCW462 waterblock (later replaced by a DD Maze 3 acrylic topped waterblock)
Panasonic L1A 69CFM-120mm Fan
Sicce Idra 1200 liter/hour waterpump (later replaced by an Eheim 1250)
Swissflow SF800 electronic flowsensor
Seetron SGX-120L 120x32 pixel serial graphics LCD
1/2" silicone hose (later replaced by Tygon R-3603)
2x Eheim 3/8" taps
1x Eheim 1/2" tap
A lot later I bought also following parts:
Asus A7V333 main board with onboard Raid and sound
MSI GeForce4 Ti-4400 128MB DDR VGAcard
2x 512MB Apacer PC2700 DDR 333MHz memory
Danger Den GF4 waterblock
4x Antec blue tri-LED fans
2x Thermal Take blue memory cooling kits
2x 30cm UV CCFL's and invertors
1x 30cm blue CCFL and invertor
Becooling blue dye lite
3m (10feet) of 1/2" R-3603 Tygon from DD and Becooling
Some pictures of above parts:
Aquacoil II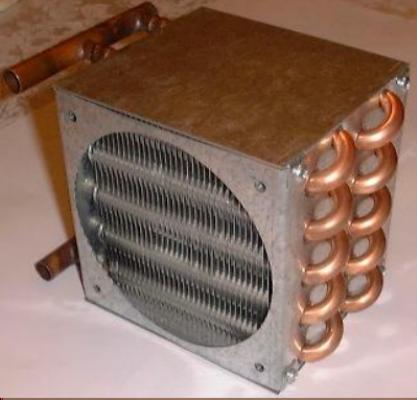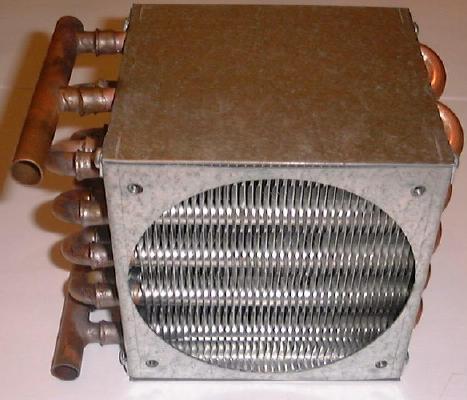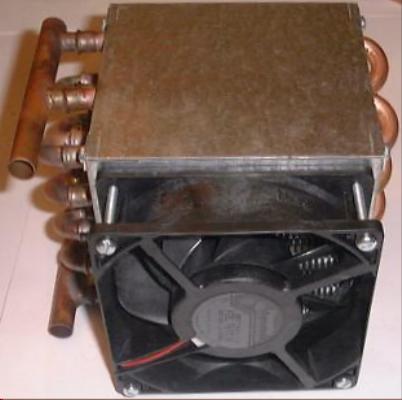 Cube radiators have a bad reputation for creating pressure drop because they mostly consist of a couple of meters of 3/8" copper tube. As I like them very much because of there compactness I wanted the "least bad" of them. This is why I choosed for BeCooling's AquaCoil II. You can clearly see it's made of two separate 3/8" circuits in parallel connected to a 1/2" inlet and outlet.
Swiftech blue anodized MCW462 waterblock: